Car Care: Maintenance & Repair
Appearance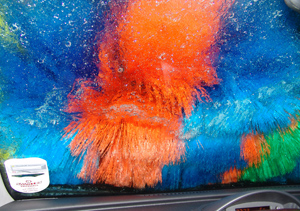 Keeping a vehicle looking brand new is tough, even with today's long-lasting finishes. Dents, dings, cracked glass and dirty upholstery are several items that age the appearance of a vehicle. Fortunately, technology and advances in vehicle protectants have helped rectify these problems, making the fixes quicker and less expensive.
Why Do I Need This Service?
Caring for your car's appearance helps you protect your investment. Appearance problems left unattended, like breaks in glass or body damage, can lead to larger safety-related problems and more expensive repairs.
Typical Service

Frequent washing (once a week) and vehicle polishing (once every 6 months) go a long way toward protecting your investment. Keeping your vehicle consistently clean prevents the buildup of damaging chemicals and dirt that may attack your car's finish. In areas of the country that use road salt in winter months, frequent washing can reduce the corrosive effects of sale that cause body rust-through.
Questions To Ask

How do I get my tires to have a shine?
Do small cracks in the windshield need to be fixed?
What can I use to remove small scratches in the paint?
Why shouldn't I wash my car with dishwashing soap?

Are You Aware?
FREQUENT WASHING AND POLISHING IS THE BEST WAY TO PROTECT YOUR CAR'S FINISH FROM THE DAMAGING EFFECTS OF ACID RAIN.


Reprinted with permission from the Car Care Council: www.carcare.org.